Memories Are Made of Food
Memories are made of food. Even as a picky eater, so much of what I cherish about people and places is the food that was prepared and shared. Even certain vessels have staked a claim in my heart: the speckled ceramic bowl my grandmother would serve Cream of Wheat in, the colorful Homer Laughlin dishes my mother collected, and Great-Grandma's china that only revealed itself at Thanksgiving.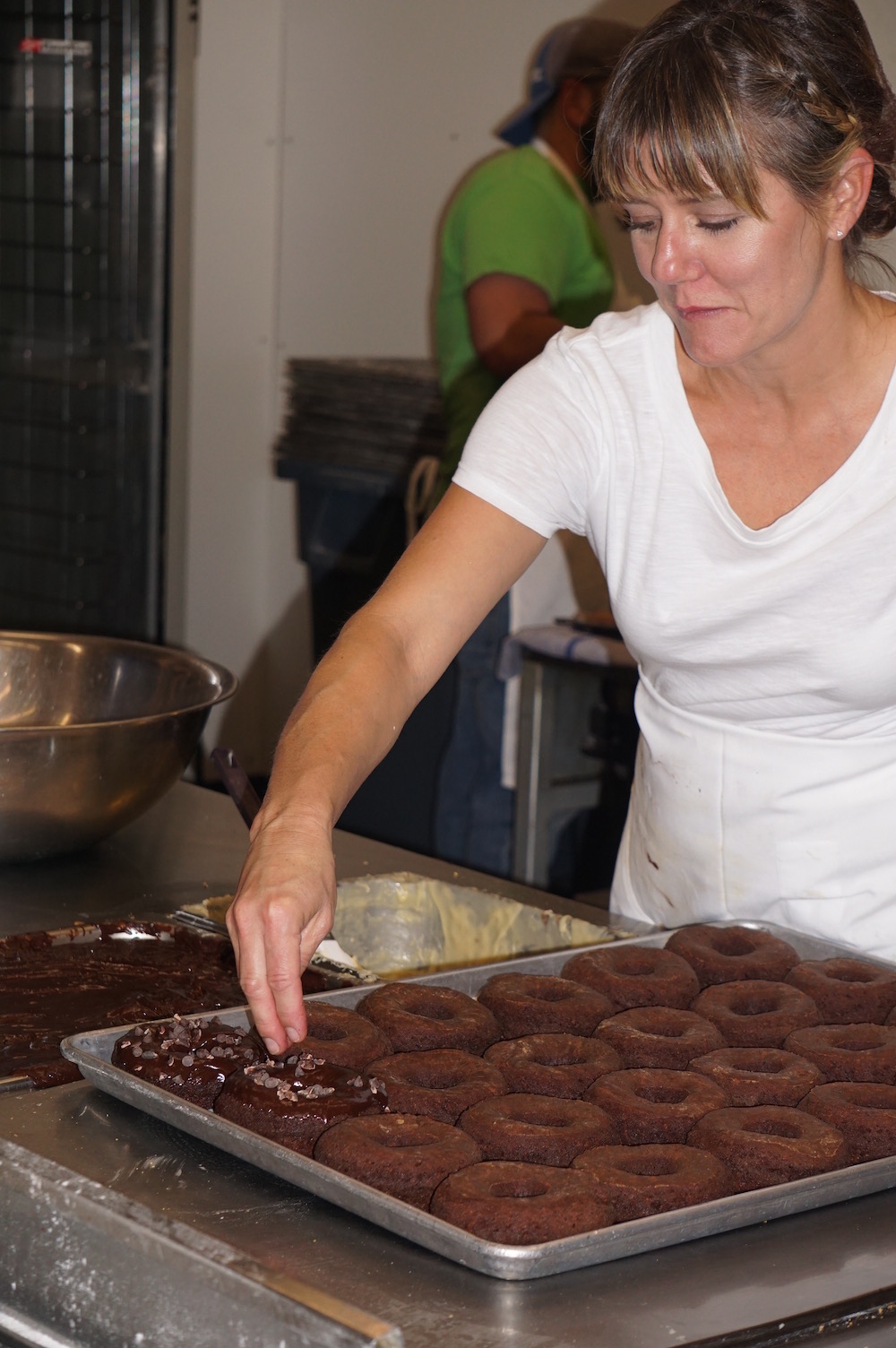 My childhood was filled with the ritual of food. There was always a garden and berries to be picked. Our family sat for dinner every night. We went to my grandparents' every Sunday for dinner. My great-grandmother was always at the end of the table peeling something onto a bed of newspaper. I loved the scene and the smells. I loved watching freshly picked blueberries get baked into cakes or boiled into jams. The kitchen collected everyone.
My parents have been a huge inspiration to me. My mother always let me help in the kitchen. She taught me how to budget, meal plan, and stock a pantry. Mostly, she let me make messes! My father taught me to do things for myself. They both have instilled in me the value of a strong work ethic and resourcefulness. They both came from large families, and everyone had to pitch in. They always tried to keep a garden. Learning how to grow food is so rewarding. I enjoy the labor, the care, and appreciate ingredients more. I think that now in the age of convenience this is even more important. We have happily carried on this tradition with our children and encourage them to have adventurous appetites.
My path to working with food has been a winding one. I really didn't know what I wanted to be when I grew up. My parents had always said, "Do what makes you happy." Easier said than done. It is genuine advice that made me crazy because I simply didn't know what that was or how to find it. I studied various things in college, which kept me amused and busy but not inspired to commit to a career path. Still searching, I tried again. I had always like fitness and being active, so I changed gears and spent a year becoming a Pilates instructor. I loved this training and learning about the mind and body; however, I did not like teaching. I realized then that I was a "doer." I liked to be active, to make things and be productive. Again at a crossroads, I contemplated my parent's advice from a different angle. I asked myself which of my many jobs had I enjoyed the most. I thought about all of the things I already did that brought me joy, that made me feel productive and creative. I had always loved being in the kitchen, working with food, and particularly baking. That's what made me happy.
I literally fell into chocolate. Upon moving to Santa Fe, I was determined to find a welcoming place to start my career in food. I stumbled upon The ChocolateSmith while applying for bakery jobs. The owner was friendly, but not hiring. He did, however, say that I could hang out at the shop in my free time. I showed up as often as I could and did whatever I could. After a few months, I was in; he hired me. At that point I learned everything I could about the business. It entailed so much more than just making chocolate. Not long after that I was given the opportunity to buy the business. I could see myself there: I had always wanted to be that quirky independent shopgirl, and this was my chance. My parents, husband, and I formed a partnership, bought the business, and hit the ground running. Shortly after, I had my first son. In 2008 we purchased another business called Amour Chocolates.It was an Albuquerque mainstay and a complementary addition to our profile. I also gave birth to my second son. In 2010, I was pregnant with my third child, also a boy. We were on our way to Balloon Fiesta and stopped off for some donuts, only to discover that the local shop had closed. I was baffled. Surely Santa Fe could sustain more than one donut shop.
I said to my husband, "Someone should open a new place, a place where the donuts don't taste like preservatives — where they're fresh from scratch, made from good ingredients." By the time we arrived at Balloon Fiesta we had come up with a concept and even some flavors. Again, the universe conspired, because while I was in labor all of the equipment needed for that business went up for auction and my husband bought it.
I discovered this purchase later, was interested but exhausted, and said, "Let's give it a year for things to settle." Oddly enough, that timeline dissolved when our longtime business neighbors announced that they were unexpectedly moving. This was the tipping point. We secured the space and learned how to make donuts.
I think in business, taking risks is all a part of the process. We have taken several risks trying to figure out how to operate a sustainable business in a smaller town. Some have worked out, and others have been costly. Our biggest and most challenging risk came about when Whole Foods asked our shop, Whoo's Donuts, to become a regional supplier for multiple states. This involved developing an entirely new product for their store and a substantial investment. The process proved to be far more challenging than anticipated, and costly mistakes were made. Fortunately, failure is an option — not the desired one, but the one we were dealing with. The only thing to do was drink a tall glass of optimism and try again. After many months we finally got the product and the process down. Distribution had begun, and we could briefly exhale while hoping for another order to come in. Thankfully the orders have continued to come in, and we are blessed with the burden of being busy. I know a risk is worth taking when living with the outcome, regardless, is a better option than not knowing or trying.
As a woman, juggling the ever-changing demands of three children and three businesses is an ongoing challenge. There is a real element of guilt that working women endure because they feel like, no matter what, somebody or someone is getting shortchanged. Understanding that balance is unique to every person, and that it changes has helped me to cope with being a working mother. I can take on a busy holiday season knowing that the summer has a lot of flex. Conceding to help and knowing that it emboldens this balance means less time to feel guilty or overburdened.
We have learned our crafts firsthand through our businesses. As an entrepreneur, multitasking is key. Each business we operate required learning a new skill set. I had to learn about chocolate, the history of this ingredient, and how to work with it. I had to learn how to present it, market it, and sell it. I learned how to mold candy bars and pan chocolate confections. I learned how to make donuts. This process is very hands-on but has not been failproof. There have been many mistakes. Mostly there has been a myriad of people who have contributed their passion and skills to our melting pot of success. Getting out of your own way is so important. I always wanted things to be as close to perfect as possible. As a pleaser, accepting the fact that not everyone had to like me or my product was a breath of fresh air. Not everything will be perfect or in control. Being able to focus on the strengths of the business instead of its weaknesses has kept me intent on the bigger picture, like staying in business.
Our businesses are all about everyday indulgences. People leave happy. I fondly remember looking forward to receiving holiday chocolates from my great-grandmother each year. It was such a special thing to open the packages and reveal the goodies inside. To now be a part of that tradition for others is very gratifying.
The day I felt the most successful had nothing to with our growth or numbers. It was a routine afternoon. I was standing there in my vintage apron surrounded by pretty little packages and trays of confections when it occurred to me that I had become that "shopgirl." I had always enjoyed the nature of the work and the creative outlet that it afforded me, but now I also found joy in living in this creation. This to me is success. I have learned to be more perceptive, humbled, and driven by realizing that my vision has become reality.
Kari is an entrepreneur with a passion for food, arts and crafts, and everyday indulgences. She is the owner of The ChocolateSmith, Whoo's Donuts and Amour Chocolates, all located in the destination city of Santa Fe, NM. Kari is hands-on in all aspects of the businesses, including product development, package design, production, and sales. Through hard work and determination, she has grown the brands and achieved local and national recognition, including being featured on The Food Network, awarded Small Business of the Year, and named Top 30 Donut shop in the U.S. Kari is a wife, mother, and lover of life who enjoys the endless opportunities for adventure that an entrepreneurial career allows.