Don't Feel Intimidated
I thought something on our street was on fire, so I ran out and looked, and felt incredibly hot, strong winds. Leaves from trees not ready for fall were flying everywhere. My neighbor's umbrella was trying to escape their yard by way of their 5-foot fence. I folded it up, put in back inside, for some reason took a shower, and turned on the news. Five minutes later, the power went out. I haven't slept much since.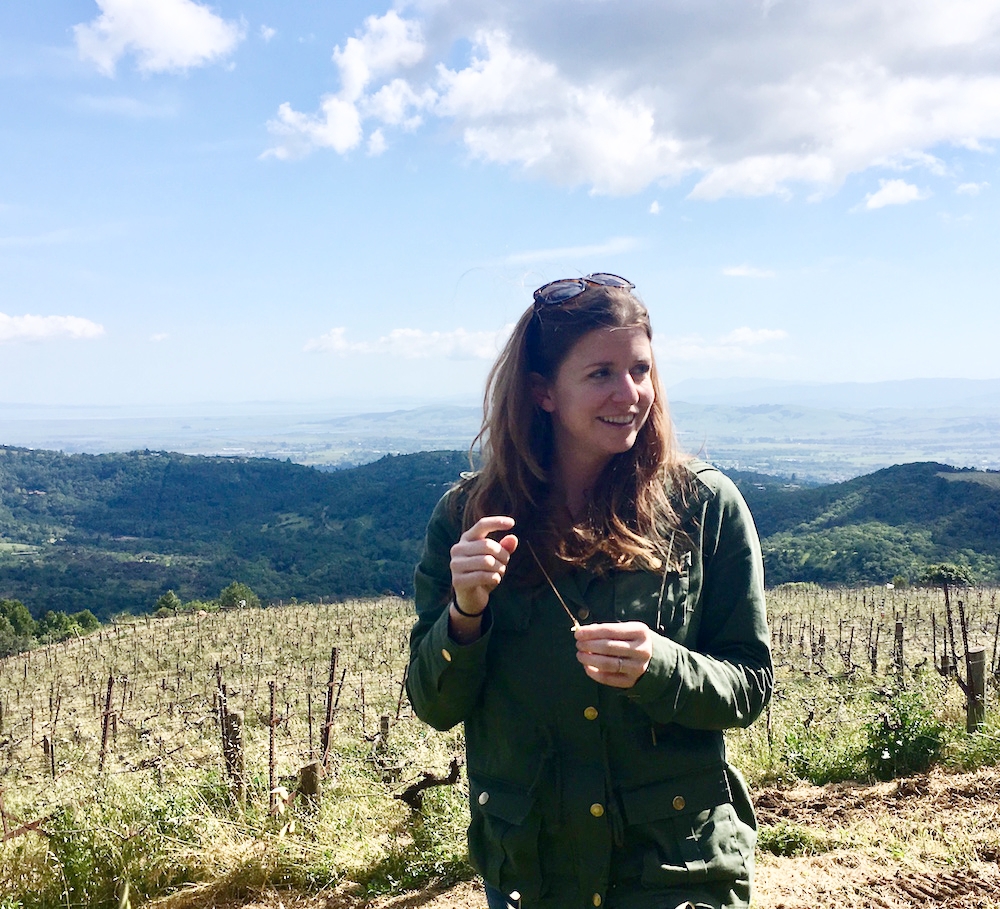 The Sonoma and Napa Valleys are on fire. As I do this interview, I can see the bright orange-red sun, filtered through the smoke and haze, cresting the hills. I'm driving back up to Sonoma from our evacuation point in Novato because there's a chance we can get back up to where we work, with a Cal Fire escort.
I know my house is OK right now. The fires haven't reached our little town. But everything is covered in a blanket of ash and smoke. It's overwhelming; I don't have any other words for it. It's exhausting and emotional and absolutely hard to breathe.
In the midst of all of this chaos and fear, we're all taking really good care of each other. The generosity of strangers has been overwhelming. We are all so grateful for the firefighters, who have come from all over the U.S. and at least two other countries. We have seen lines and lines of police forces from all over the place coming to our aid. We just have to feel very lucky because we were able to get out. If we lose our jobs or our houses, we do. There's no sense of control; we just have to hope. Taking some time out to talk about my journey in wine is a nice break from what's going on right now.
When I was growing up in southeastern Pennsylvania, my mom and my stepmom each set amazing examples of hard work, dedication, and the importance of following one's passions. My mom was a physical therapist for 25 years, then, in her fifties, put herself back through school and followed her dream of becoming an acupuncturist. She's rescued numerous dogs, taught herself stained glass work, grown her own food, and is an incredibly involved grandmother to my nephews. My stepmother was a teacher when she married my dad, then became a psychologist for 20 years and then an HR manager, and now she's writing a book. The women closest to me worked hard and pursued their interests. No one ever gave me a specific blueprint or set of expectations to follow. They were always trailblazing, and they always met the goals I set for myself with an abundance of support and encouragement. When I left my hometown, I didn't even know that winemaking was a possibility. I've taken a long, roundabout journey to my current life.
I first started working when I was 15. I lived in this very small town — and when I say really small, I mean there were only around 25 of us — but for some reason, our new neighbors opened up a fine dining restaurant across the street from where we lived. When I needed a job to earn a little more independence, I started washing dishes. Before long, they had me prepping food and were teaching me how to make the desserts. I worked in restaurants after that for about 14 years. The food and service industry has always been a really big part of my life. Whether back or front of the house, I've done almost every job in a restaurant.
When I was 25, I had to start learning about wine. I had become the manager of a restaurant in Santa Fe, and that came with the task of curating a wine list. One of my reps gave me a list of books and other great resources. The more I learned about the winemaking side, the more fascinated I became. I am equally right- and left-brained, so learning that wine is science, art, and agriculture — all things I absolutely adore —, hooked me. Around that same time, I knew that I was ready to leave Santa Fe.
It was time to move on and try something new.I borrowed a friend's car and took a road trip out to Northern California, to Napa and Sonoma. I ended up finding job opportunities and a potential roommate. I went back to Santa Fe, packed up my life, and moved out here two weeks later. Since then I have pushed myself as hard as I can toward the goal of making wine. It's been a rollercoaster, crazy seven years, but I am now in a great job, making wine and learning a lot every year. I work with an amazing team in the most beautiful spot in the world.
When I moved to California, I went to Napa Valley College, and started taking winemaking classes. In the meantime, I was working in hospitality in the tasting rooms and helping out friends who make their own wine. At work, I had a great winemaker, Pierre Birebent at Signorello Estate in Napa, who would teach me how to run the basic analysis in the lab or go out and pick with the crews. (They were sweet to let me try. It is such a hard job, and those men and women are amazing at what they do. You cannot keep up with them. It's backbreaking, humbling work.) Any time I had a question, Pierre would answer it.
I worked full-time through school with a full load, and when I was offered a job at the winery where I now work, Repris, I decided to relocate to Sonoma. My day to day is hugely varied. One of the great things about winemaking is that the job changes throughout the year. My tasks change with the seasons. I am part of the winemaking team as the lab and production assistant, and I also end up doing a lot of research. Depending on the time of year, I could be mapping vineyards, blending wine, pulling barrel samples for analysis, or monitoring fermentations.
Historically, women winemakers weren't as prevalent or celebrated, but within the last 40 years there have been more and more women acknowledged for their winemaking. Where I work, the associate winemaker and myself are both women, and she and I have our own label. One of our best cellar workers is a woman. There used to be only a few, like Cathy Corison and Heidi Barrett and so on, but they paved the way for the rest of us. I'm not willing to say that sexism is non-existent now in the wine industry; I have experienced it myself in the past. But my one very negative experience years ago has been countered by everything that I've seen since. I truly don't feel like I have to fight as hard as I might have had to at a different time to pursue this career.
In terms of winemaking there aren't a lot of obstacles I have faced as a woman. I think all women have been in positions where we've been underestimated or had a different set of expectations thrown our way. But since I've found myself in a great place of employment and those circumstances are not my daily reality, I've been able to focus more on my broader goals as someone who loves what I do and wants to share it with the world. I think there are a lot of intimidation factors when it comes to wine. In the U.S. especially, there seems to be an impression that an interest in wine is inherently elitist and exclusionary. But there's a point that's missed along the way: Working-class people make all of this. I firmly believe it's something that everyday people can enjoy. I would really like to see more people, especially in my generation, feeling comfortable drinking wine, talking about wine, and have it be a part of their lives. I'd like to personally help change the conversation about it because I absolutely love what I do and it's so much more fun to share it with other people. Wine can be interesting whether you're into science, art, food, agriculture, or if you just enjoy drinking and socializing and don't want to say a word about it. You don't have to be above a certain pay grade to enjoy it.
When we were thinking about our personal label, Pomebandit, we wanted a sense of levity and approachability. Our label is different than most. It's possible to take something very seriously and still have a sense of humor. All of us in this industry live somewhat specified lives. But to stay in it, you have to love it. And there's a lot of love going around here. All that a lot of us have been thinking about is getting back to work and finishing harvest.
I will talk all day about the winemaking process if you have questions, and if you don't and just want to share a glass or two and talk about how much natural disasters are the worst, I am very much here for that too. Don't feel intimidated and don't let this thing scare you, because it's still just grapes in a bottle. And grapes do some pretty cool things in bottles.
Katelin, from southeastern Pennsylvania, lived 10 years in New Mexico, the Land of Enchantment, and is now residing in Sonoma, CA, the land of her dreams. She makes wine, pies, toffee, and jokes, and also works as a part-time time gardener and cat bed.
Recipe: Pie Crust
Words: Katelin Walters Siegel