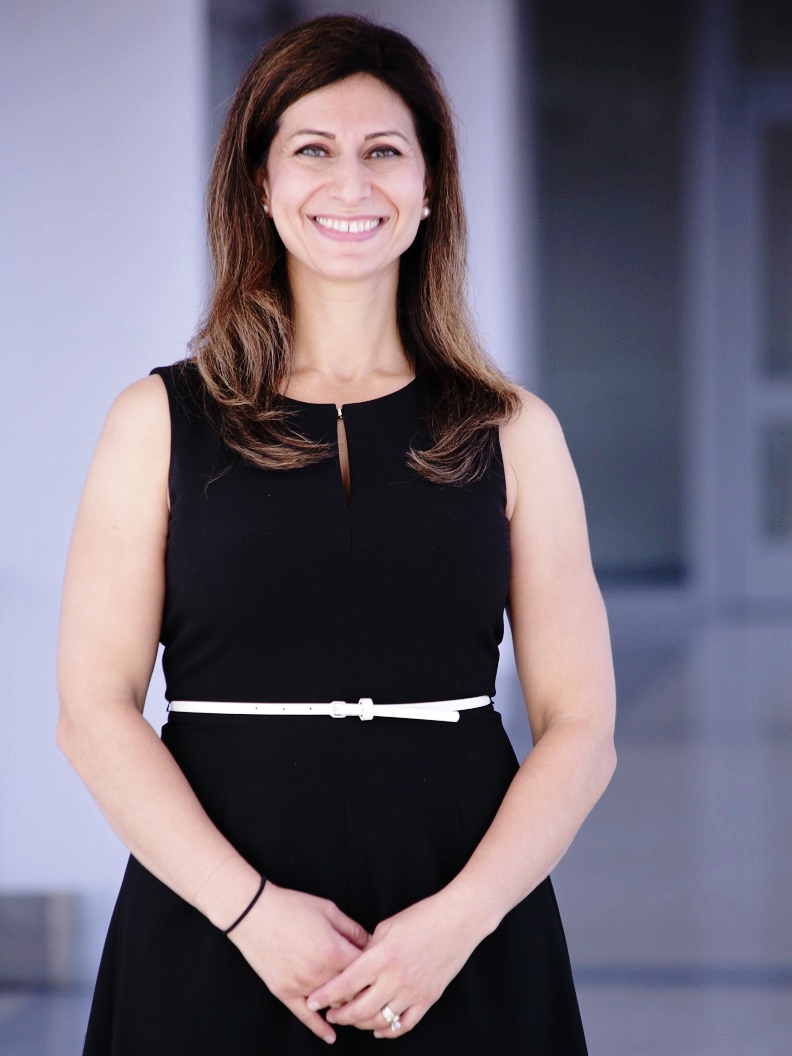 Dr. Ninet Sinaii, PhD, MPH
I am American. And I am Armenian. I have an atypical name. I'm a woman, a wife, a mother, and a scientist. I'm also a Christian. I'm an immigrant and a polyglot. I serve our Nation. And I feel like I belong.
The truth is I didn't know what I wanted to be when I was little. All the women around me were wives and homemakers in traditional roles. They did everything: cooking, cleaning, teaching, tending family members. That's what I wanted do — everything. And more.
From the start, I was curious. I followed my mother around all day long watching how she cooked or how she cared for my sick grandfather. I watched my father replace my grandfather's IV lines to learn how he did it. I watched a blind family friend to figure out how she walked around without running into things and how she was able to read (Braille). Whenever friends or relatives returned from trips out of town or country, I'd eagerly pick their brain about what they saw and what they experienced. I had my own chance to be amazed with the world when my family moved from Iran to Germany and later to the U.S. I was like, "Wow ... how can people be so different from me?" and then when I made new friends, "How can people be so much like me?"
The medical field made a lasting impression on me at an early age. While in Germany, an injury resulted in my hospitalization for a month. I made lots of friends with other sick kids and came to appreciate the value of friendship and camaraderie, especially at lonely times when our parents weren't there. I came to realize the power of medications that could relieve me of my pain. Despite my crude knowledge of German, the kindness of the nurses overcame all communication barriers; I still remember their names.
It so happened that once in the U.S., I excelled in math and the sciences. As I grew older, all aspects of my life — curiosity, love for people, interest in medicine, math and science skills — came together. In college, I took part in research with my professors beginning as a freshman. But, it was during my junior year abroad in England when I was first introduced to epidemiology and public health. It was like falling in love! My instructors made the topics so easy to understand and so relevant. I felt I had finally found what I wanted to do for the rest of my life! Epidemiology matched my passion for people, my desire to understand disease, and my motivation to be part of the scientific process.
Following college, I focused on pursuing my interest further through graduate study. I moved to the East Coast to be with my husband. It helped a bunch that he was in medical school. Our studies overlapped considerably, and my love of epidemiology nicely complemented my married life. My graduate dissertation helped me hone my research skills. It even paid for part of my education bills, which were quickly adding up (turned out they were well worth it).
My studies quenched my thirst for understanding and knowledge. I was getting closer to the answers of who, what, when, where, how, and why of life and death. I suppose it's only natural that I pursued the field of epidemiology. And that's my job now.
I work on studies examining a range of conditions from acute to chronic illnesses, public health practices, methodological questions, and ethical considerations. All of our studies have the goal of understanding how illnesses develop, how illnesses can be treated most effectively, and ways in which health can be preserved. For example, one of my studies showed how women with endometriosis were more likely to also have autoimmune conditions; the study recommended that clinicians have a higher index of suspicion for conditions like hypothyroidism and diabetes when treating women with endometriosis. This led to another study that showed higher rates of melanoma and ovarian cancer as well, suggesting other potential associations related to the immune system. We carried out other studies that characterized the diagnostic experiences of women with endometriosis while enduring their illness for decades, and the types and number of treatments they utilized. These showed the profound effect of endometriosis on women's health. It took several years to complete this work. The thing with medical research is that it is very time consuming and it often takes years before we actually have answers, so sometimes it's very discouraging. But the work does eventually have an impact. I am only a small piece of the puzzle, and it's all of the pieces that come together to form the full picture.
The National Institutes of Health (NIH) is where I work. It is a federal agency, part of the Department of Health and Human Services. It is one Institution but it's composed of many different institutes. Each of those institutes focuses on specific types of diseases. I belong to the Clinical Center. The NIH Clinical Center is the largest research hospital in the world, and every patient seen there is a participant in a research study. We have patients from throughout the U.S. and the world. Most have rare or poorly understood diseases. Our patients are a very important part of the work, and their participation in our studies helps us with the medical understanding and discovery that ultimately help many others like them. It really is an amazing place, with beautiful facilities and wonderful staff that includes world expert physicians and scientists. It's an honor to be part of this.
The medical studies that we do at NIH can only be carried out by teams of researchers; these studies are multidisciplinary and not a solo act. Each member contributes his/her expertise to the effort; we work together. My contribution is to help design these studies and later statistically analyze the collected data and provide valid conclusions. My work is quantitative and built on probability and statistics — lots of number crunching using complicated software. Yes, I had to master linear algebra and multivariable calculus, not to mention the mathematical statistics courses in grad school!
Needless to say, science and academics have been exceptionally rewarding. But, the friendships I've made in the process are the true jewels of my life. In college I met the man whom I've called husband for nearly two decades. Friends I made in college, grad school, and at work are a big part of my life. Every time I'm at a conference or even on vacation I encounter friends, former professors, and students. Attending a college where the liberal arts and critical thinking were emphasized at the same level as the technical sciences prepared me well for my complex and multicultural/multinational workplace. I feel well rounded.
I feel very lucky to have found my calling. Every project brings with it new team members and new challenges. I learn new things and make new friendships regularly. I feel like I am a forever student! I love my job so much so that I've volunteered to teach fellows, residents, and medical students. The field does impact public health in our daily lives as well as the practice of medicine. I think epidemiology can be introduced earlier in education.
A tough part of doing everything has been doing everything. Yes, all women know what I'm talking about. Finding that balance between life and career — where is it? It hasn't helped that the place where I felt gender bias is in my personal life. I am among the few women in my extended family with advanced degrees. I am the wife of another professional and was a military spouse for over 15 years, and I have children. However, somehow these have become reasons for others to ignore that I am a professional or dismiss my achievements. I think this general dismissal of me or of women is not intentional, but they are nonetheless problems in our society. My response to such situations has been to tap into my Christian faith and forgive, with a dose of education if there is a teaching moment.
Regardless of any societal bias, I still feel I have to have the proper balance in my life. Family is very important to me. But so is my career and work. There are times I struggle and get frustrated. Good thing is that with time and experience, I've grown to be more flexible and less easily frazzled. I've grown more confident. Maybe I've also grown less hurried, less strict, and more forgiving of myself. Last but not least, I've come to realize that in everything, I am but one member of a team. This has allowed me to never feel alone in facing my challenges. Be it in my family life or at work, teamwork, partnership, and patience are a must.
Life is beautiful, with all its ups and downs.
Don't get me wrong, obstacles are abundant. But so are the opportunities to overcome them. Keeping an eye out for these opportunities is critical. Yes, this may be overly simplistic, but it's been my approach. Pain is a guarantee in life; I just had to avoid getting stuck in it for too long — yes, this is an admission that I've been stuck many times. We always have a choice in how we respond, and often, the process is more important than the end result. We are not broken because of our experiences — we are better. And the people in our lives make us complete, give us perspective, and inspire us. We need each other. Even the difficult relationships have a purpose.
I live by the motto, live what you love. I was very fortunate in finding my professional calling. This motivates me to work hard and push through the challenges. Perseverance is key.
Dr. Ninet Sinaii has been at NIH since 2000, first as a pre-doctoral fellow then as a staff epidemiologist at the Clinical Center. She received her BA in Psychobiology from Occidental College, Los Angeles, and her Master of Public Health followed by a PhD in Epidemiology from the George Washington University, Washington, D.C. She collaborates on numerous medical research studies and has co-authored dozens of scientific publications.
The recently aired "First in Human" is the Discovery Channel's documentary on the incredibly moving journey of four patients at the NIH Clinical Center.