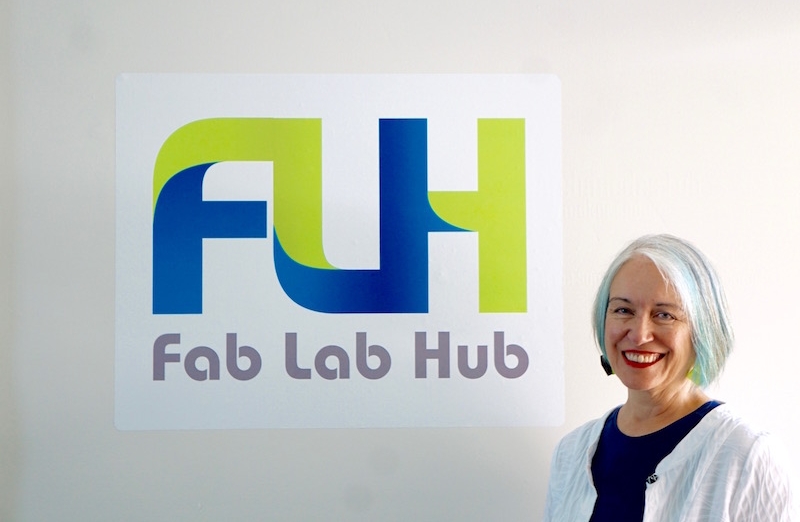 Q: What is your role in science and technology?
My field is building and using the tools of digital fabrication: things like laser machining, 3D printing and CAD Design. My company, Fab Lab Hub, operates Fab Labs in the Santa Fe Business Incubator and the Santa Fe Community College Innovation Center, where our focus is on training people for new collar jobs in manufacturing.
My role initially was building those tools, but in the last five years I've been able to work with the MIT Center for Bits and Atoms and the Fab Foundation, which runs the International Fab Lab network, which is an informal community of about 1,200 Fab Labs worldwide that contain all of the tools that I use where anyone can make almost anything. Each Fab Lab is very different. Some of them are in schools, libraries, museums, colleges, community colleges, and K-12 schools.
Q: Do you remember when you became interested in manufacturing?
I was part of this international student music group; I ended up having our chapter run all the concerts for the university. And in my education credential there were some programs that were lacking, so I organized this coffee stand where we made enough money to bring in from Europe all the leaders in those fields we didn't have in our curriculum and conduct summer workshops. I think that from being around my dad, who was an entrepreneur and a marketing guy, I was able to do it intuitively, although I learned market segmentation strategy at Johns Hopkins. When I met my partner, he had invented a miniaturized Excimer laser. He had taken a laser the size of a coffin and turned into the size of a PC. Now you had a machine that was much smaller and much more accessible. This is the wavelength that was used for laser eye surgery. So we built one of the lasers that one of the companies used for Lasik. We built the light bulb for the system. We built laser machine tools to do micro-manufacturing and had a job shop.
My lab here really focuses on workforce training, which is what I am really interested in. We sold Potomac Photonics in 1999, and I ended up working with MIT, which was a fabulous experience. The Fab Foundation is an international organization, so I wanted to give some help to specific programs that the U.S. labs needed and one of those is workforce training. Project-based learning is the centerpiece of Fab Labs, so it's a natural fit.
Here in Santa Fe we are creating a job shop that is a contract service provider for digital fabrication technologies; everything is driven by CAD. It includes 3D printing, laser cutting, vinyl cutters, CNC machines, a microelectronics workstation — so we make things like Wearables. We're collaborating with the community college here and in the SFBI to have a training program with a paid apprenticeship. The beautiful thing about a job shop, there are enough makers in Santa Fe, enough architects, designers, makers that need prototypes or things constructed. But beyond your local community, you can ship things. You don't have to make things just for your local market. Forest Scientific's CEO, who donated a CNC machine to the SFBI, was telling me that there was a high school that has one or two machines in a rural state that generated serious revenue with contract work they ship out of state. There is a real wide capability for an outside market here in Santa Fe, giving jobs to our local workers.
Q: Did you have any experiences as a child that inspired you to pursue laser manufacturing?
I always liked science in school. I actually liked everything, but I feel like how we teach kids today has really changed. Even though now there is a such a focus on STEM, I don't like that we're turning kids into robots. When I was a kid, I went to a private Catholic school where we had a very broad and very deep education that included math and science but also the liberal arts like music and art and literature. I've always had a real fundamental interest in science, but my formal education is not in science. My undergraduate degree is in Piano Performance, and I have teaching credentials in music education — and I have found that there is an amazing connection between music and math. Math was always easy for me because I think that way, but music always made me a great analytical thinker because as you look at repertoire, it's about the analysis. You have to understand the chord structure, harmonically, melodically, because that would change how you were going to play a piece of music. I think the reason that I am able to think analytically is because of my music training. My teacher, Raymond Jackson, really taught me the analysis part of it. My mother would say it is just a shame you don't play the piano anymore, but it taught me everything I know about discipline and analysis of anything. I can quickly look at something and analyze it and know what we have to do because of music.
Q: Are there any challenges you have faced in regards to your gender in manufacturing?
It's challenging in the real world because both men and women are intimidated by science and engineering. But in the everyday world if you tell someone you do anything in science they assume that you are some Brainiac. It is really sad that people aren't exposed more to science and feel more comfortable with it and accepting. People will say, "You must be a genius," and I say, "No, I just build lasers." At my first conference in 1986, organized by the Optical Society of America, on lasers and electro-optics, there were 10,000 men and five women. Now there are more women in optics but still very few women in the industrial fields, and even in industrial lasers there are still almost no women. I was once the president of the Laser Institute of America, and all those years that I was on the board there were 50 board members and me. It was great, though; I used it to my best advantage. I was the CEO of a company, worked in marketing and sales, and everyone knew me. I always stood out. I always had much larger visibility for our company, and I was able to build a brand for Potomac very quickly. What I found is that as long as you could keep up with the customers and speak their language and be competent, it was fine. It's slightly different in the Fab Lab world. In the maker world, a study was done by Open Works in Baltimore that showed that a huge number, more than 75% of maker spaces, were predominantly middle-aged white men. But the Fab Labs are quite different because of our emphasis on broader kinds of work like schools, where there are a lot more women in education.
Q: What advice would you give others pursing something similar?
I really believe that from a design perspective the best people we see in design and the most creative are people who do have a liberal arts background. I find that the most interesting design is when people have exposure to the world.
I think people need broad educations. Be interested and open to the world. Be interested and curious to all things the world offers. Fuel your curiosity about the world.
Ms. Boisvert founded Fab Lab Hub, a non-profit that is part of the MIT-based Fab Lab Network in order to foster new collar workforce training in digital fabrication manufacturing skills such as 3D Printing, CAD design, laser machining, and entrepreneurship. Fab Lab Hub operates digital fabrication contract service centers at the Santa Fe Business Institute and the Santa Fe Community College Innovation Center that provide training and apprenticeships. Fab Lab Hub also produces DigiFabCon, a national conference and Fab Festival in its sixth year dedicated to demonstrating how digital fabrication is impacting the world. Ms. Boisvert is a Fellow and Past President of the Laser Institute of America and has served on the Optical Society of America's Industry Advisory Board as well as the Boards of numerous international technical societies. For fun, she creates 3D-printed jewelry from her home in Santa Fe, New Mexico. Get Sarah's book, New Collar Job Training for Industry 4.0.