Apple Walnut Strudel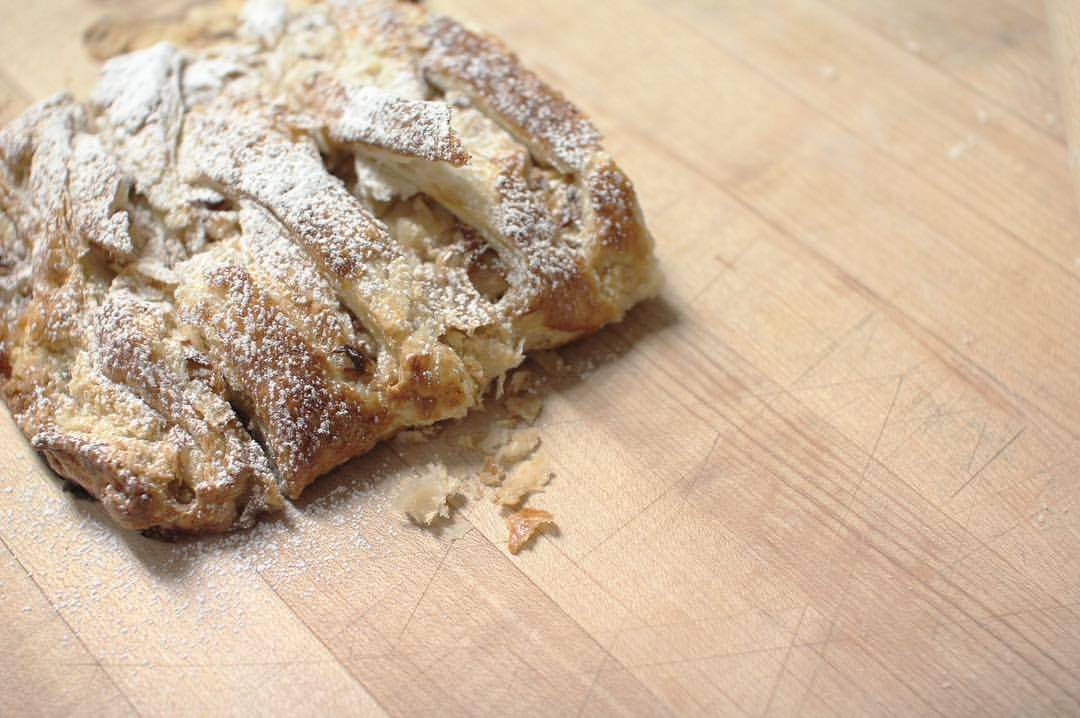 This is the my ultimate winter comfort food. There might really not be anything better than sitting somewhere with a good view, watching the snow fall, bundled up in a blanket, snacking on a warm apple strudel and drinking hot tea (preferably ginger). Every culture has some kind of version of this recipe; another one of my favorites is the one with ground poppy seeds instead of the walnuts. Either way, you can't go wrong.
Dough
2 1/2 cups flour
1 tsp sugar
1 cup unsalted butter (very cold)
1/2 cup water (very cold)
1 tsp salt
In a bowl combine the flour and sugar
Cut the very cold butter into cubes and add into the flour mixture
In a measuring cup combine the very cold water and salt, stir until the salt dissolves
Poor the water over the flour mixture and gently mix with a spatula
Transfer the contents from the bowl onto a wooden surface and using a rolling pin roll the butter cubes into butter flakes
Fold the messy dough over and roll again until you can form a rectangular shape of a flaky dough
Tightly wrap the dough and chill for at least an hour or overnight

Filling
5 medium apples
1/3 cup sugar (this varies depending on the sweetness of your apples)
1/4 cup chopped walnuts (optional)
1/4 tsp cinnamon
Zest of half of lemon
Peel the apples. I like to shred mine off the core on the largest garter I can find in the kitchen. The smaller the shreds, the more juice you lose in the cooking process. You're welcome to go in a different direction and cut the apples in a very small pieces, or slice them thinly on a mandoline.
Mix in all the other ingredients. With the sugar, I'd recommend starting with less and tasting your filling. You don't want to overpower the other flavors.
Roll out the dough into a large rectangle. You can do this either the traditional way of spreading the apples all over the dough and rolling it up into a long loaf, or you can spread the filling in the middle section of the dough, cut the outer parts into 2 cm slices and braid the dough on the top.

Egg wash
2 egg yolks
2 Tbsp heavy cream
Pinch of salt
Brush the egg wash all over the strudel. This will make it nice and golden in the baking process, so you want to cover it thoroughly. Sprinkle with a little bit of sugar.
Bake at 350° until golden.

Dobru chut!