Meat Pie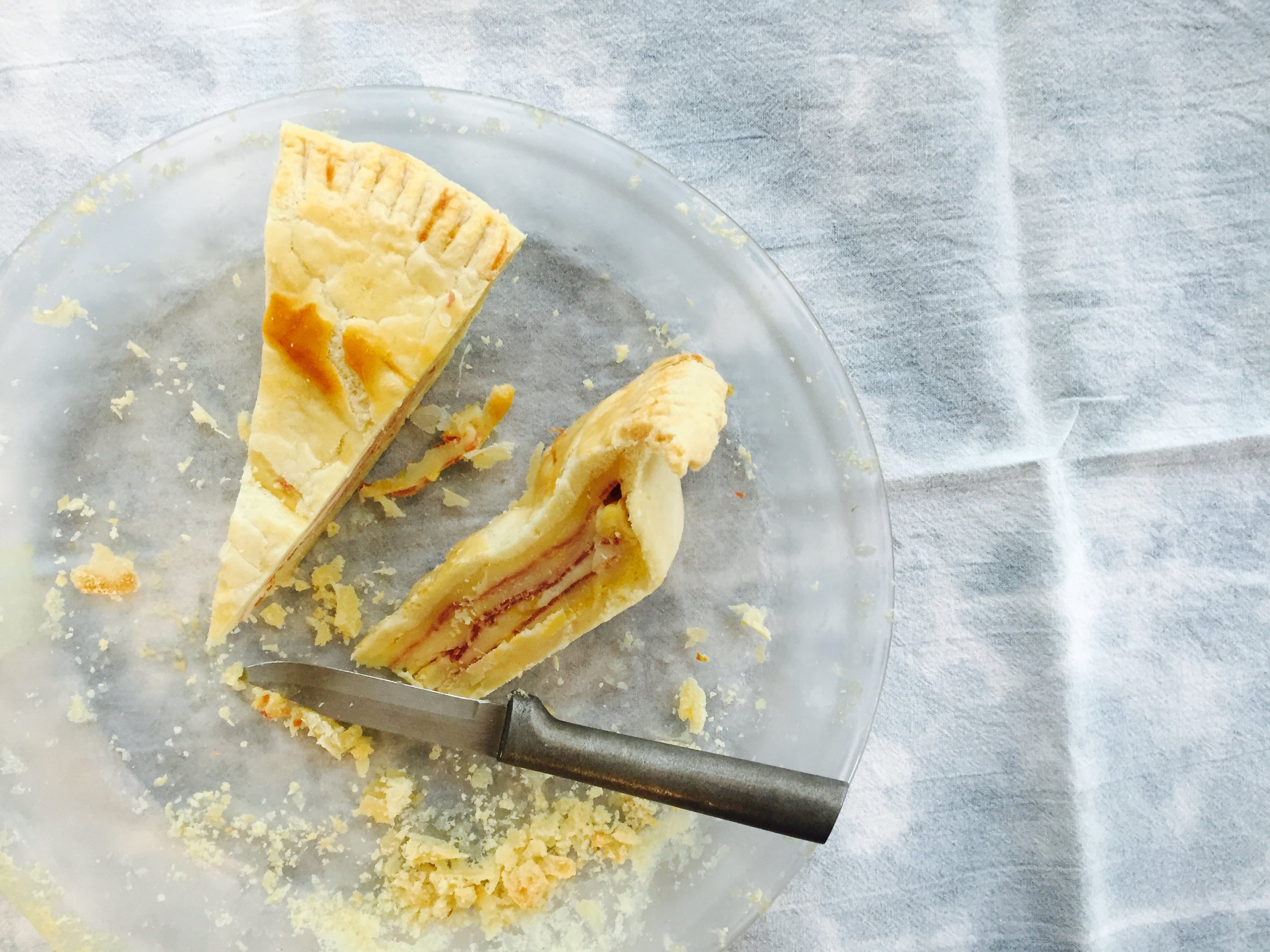 There are times in life when a specific taste launches you back in time, flooding your heart and mind with memories. Watermelon Blow Pops remind me of road trips; Constant Comment tea reminds me of my mom, sister, and cold Ohio winters; and Meat Pie reminds me of Grandma Mary. This is her recipe. She would make one for me on my birthday. Years later, with a single bite, I can remember every detail like it was yesterday: the flaky crust holding layers of sliced salami, ham, and cheese; her beautifully wrinkled hands holding the white box, tied with red and white butcher string; and her aquamarine ring sparkling in the sunlight as she presented me this treasured gift.
(Makes 1 pie or 8 servings)
1 box, store-bought pie dough

5 eggs

1/2 lb your favorite salami (thinly sliced)

1/2 lb your favorite spicy salami (thinly sliced)

3/4 lb your favorite cooked ham (thinly sliced)

3/4 lb hard mozzarella cheese (thinly sliced)

3/4 lb provolone cheese (thinly sliced)

Preheat oven to 350° F.
Defrost pie dough and gently cover the bottom of a basic 9-inch pie dish, making sure dough hangs over the sides evenly.

In a large measuring, cup whisk the eggs together. Season with salt and pepper.

Pour 1/4 of the egg mixture into the pie crust. Spread out with a pastry brush or back of a spoon.

Working in a circle, layer slices of cheese (it doesn't matter which one) to cover the entire bottom of crust. Add a layer of meat in the same way. Brush the meat layer generously with egg. Repeat until all the cheese and meat is used up, reserving 1 tbsp of egg.

Lay the top sheet of pie dough over the filled pie.

Press the edges to seal the top and bottom crusts together.

Tuck in the edges of the dough so it doesn't hang over the side.

Holding a fork horizontally in relation to the dough, press down so the edge seals and the tines of the fork make a decorative indentation in the dough. Continue around entire pie.

With a sharp knife, cut three slits in the top of pie dough to allow steam to escape.

Brush top of pie with remaining 1 tbsp of egg.

Bake in the middle oven rack for approximately 55 minutes, or until the pie is golden brown.

Allow to cool before serving.
Component in Action:
Pair with a green salad for breakfast, lunch, or dinner

Eat on its own as a snack

Serve plain or with Dijon or honey mustard

Really fun to slice thinly as an appetizer, or on a charcuterie platter

Eat with pickles and/or cornichons